Looking for a birthday photo booth in the Bahamas? Then Pic Click Photo Booth is the right one for you.
Welcome to the Pic Click Photo Booth. Your need for a creative birthday photo booth will be fulfilled by us. We are very experienced in photo booths. We offer the highest quality of rental photo booth services. When it comes to renting a photo booth for some special occasion in the Bahamas, Pic Click Photo Booth is the first thing that comes to everybody's mind. For a very long time, we have been creating unforgettable memories for our clients by offering lovely photo booths. We are very creative; we design unique photo booths to attract guests to any event. Our photo booths will take your heart away for sure. Pic Click Photo Booth is the best option to opt if you want unique styles of photo booths that can make your event successfully exciting. We are here to offer you the best birthday photo booth. Pic Click Photo Booth will be making the birthday party memorable and fun. When there is a Pic Click Photo Booth to capture those special moments of the party you don't have to look for any other option. You can now relax and leave everything to us. We will meet all of your needs efficiently and that is Pic Click Photo Booth's promise. We deliver on what we promise.
Make your guests awestruck with the perfect photo booth. Add some fun to your event with a rental from  Pic Click Photo Booth. We will be offering you the best rental photo booth that will suit your birthday party. All the cute moments of the event will be captured as a beautiful memory for a lifetime. Pic Click Photo Booth would be very happy to serve you its outstanding photo booth.
Birthday Photo Booth by Pic Click Photo Booth: Are you planning a cool birthday party for your loved one? Then, the idea of a photo booth is just perfect.
No matter for whom you want to organize a birthday party, photo booths will be eye-catching and fun. Every detail of the birthday celebration will be captured by our professional team so that you don't miss any moment of the celebration to cherish later. Pic Click Photo Booth vow you very beautiful and cute shots. You will be very amazed to see our captures, they will be worth admirable.
You can check out our previous captures to get an idea about our photo booth and photography services. We are pretty confident that you will find our captures adorable. We always make sure our captures bring a smile to our client's faces. Pic Click Photo Booth won't disappoint you ever.
So, be it your baby's 1st birthday or an 18th or a 21st birthday party, we have superior photo booths for you. You can even customize your photo booth if you want, by adding a message for the one you are arranging a party or for your guests. Pic Click Photo Booth can do all.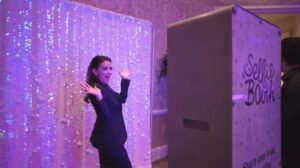 Now, take a look at the photo booth services available with us, 'Pic Click Photo Booth'. We have a broad range of photo booth types to offer.
Product Photography. – This is perfect for groovy get-togethers
Fine Art Photography – It has 1920s elegance
Portrait Photography – Charming Colorado barnyard-chic
Mirror Photography – Get a swanky Hollywood flair
Retro Photography – This is a perfect way to feel the noise
Vintage Photography – Want to experience a red carpet glam-cam grandeur? This can help you.
These are our photo booth types. You can choose any you want.
Get in touch with us today itself to discuss your birthday party.